The Nis Symphony Orchestra Hall, 8pm
OPENING CEREMONY
Nis Symphony Orchestra
Conductor: Orhan Salliel (Turkey)
Soloist: Luigi Borzillo, piano (Italy)
PROGRAME
P. I. Tchaikovsky – Capriccio Italien op.45
S. Rachmaninoff – Piano Concerto No.2
Moderato
Adagio sostenuto
III. Allegro scherzando
PAUSE
I. Tchaikovsky – Symphony No.4 in F minor op.36
Andante sostenuto
Andantino in modo di canzona
III. Allegro
Allegro con fuoco
Orhan
Salliel
CONDUCTOR
He was born in 1968 into a musician family. After finishing his study at Mimar Sinan University State Conservatory in Istanbul on Bassoon, Piano and Composition he went on to Holland, Rotterdam Codarts for further study on Conducting and Composition studies, Amsterdam Sweelinck Conservatory for Conducting and Sibelius Academy for Orchestra, Choir and Opera Conducting.
In Finland, he studied with Jorma Panula, Eri Klas, and Ilya Musin. He received Master Classes with Valery Gergiev in Italy and Karl Österreicher in Austria.
In 1993 and 1994 he worked in the Kuhmo Chamber Music Orchestra as Conductor and Assistant Artistic Director.
His career in Turkey started without a rehearsal performance of SALOME by R. Strauss with the Istanbul State Opera. This very successful performance brought him to be the conductor of the Istanbul State Opera for the coming four years. Amongst the repertoire he conducted during this period, there were masterpieces such as G.MAHLER 8. Symphony, AIDA, TURANDOT.
After this, he moved on to be the founding Conductor of the Bursa Regional State Symphony Orchestra (1999-2011) Then he was the Conductor of the Antalya State Symphony Orchestra (2011-2015). He is still the Conductor and General Music Director of the Cukurova State Symphony Orchestra.
Throughout his career, he conducted many Symphonic Orchestras in Turkey and abroad including Holland, Denmark, Finland, Germany, the United States, China, Mexico, Japan, Spain, Poland, Uzbekistan, Hungary, Korea, Qatar, and Russia. He is also the permanent guest Conductor of the EAFIT Symphony Orchestra in Medellin Colombia.
In addition to his Classic Music career, blending the Turkish Music culture running in his family for generations with his years of training in Classical Music, he produced many new projects and Works bringing different musical disciplines together, in the pursuit of getting the polyphonic music to new audiences. Some of these works have also been performed in concerts abroad. With these Works, he began a new genre, embraced by many colleagues and younger generations. A new style has emerged, bringing musicians of various styles and disciplines together under the principles of Symphonic Music, creating new pieces of work. He continues his work in this field with various projects, in his quest for new horizons for Turkish music.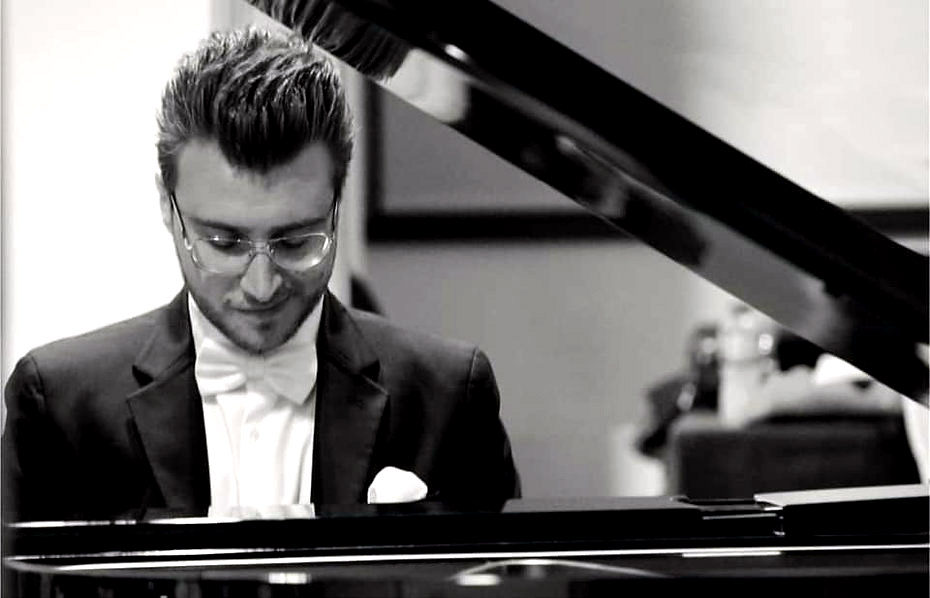 Italian pianist Luigi Borzillo in 2012 began his concert activity which led him to play in prestigious halls in Europe, America and Asia. Among these, he played in the USA (Carnegie Hall in New York, Bicknell Family Center for the Arts in Pittsburg- KS), in Austria (Mozarteum of Salzburg and Musikverein in Vienna), in the Czech Republic (Auditorium of the Zakladni Academy in Prague), in Poland (Srodowisk Hall in Warsaw, Galery Wiezy in Bydgoszcz and Chopin Festival in Busko-Zdroj), in Ecuador (Teatro Centro de Arte of Guayaquil), in Switzerland (Offene Kirche of Sils Maria), in Mexico (Sala Nezahualcoyotl of Mexico City and State Center for the Arts of Ensenada and Rosarito), in Bosnia and Herzegovina (Dom Armije of Sarajevo), in Spain (Sala Eutherpe of Leòn and Civic Centre Can Deu of Barcelona), in Turkey (Metropolitan Municipality Concert Hall of Adana), in Italy (Teatro Studio of Auditorium Parco della Musica of Rome, Teatro La Nuova Fenice of Osimo, Auditorium Gaber and Bocconi University in Milan, Teatro Politeama of Lamezia Terme), in Cuba (Oratorio San Felipe Neri of La Habana and Sala Jose White of Matanzas) and in Brazil (Theatro Pedro II of Ribeirão Preto).
Luigi
Borzillo
PIANO
In 2014, he was selected by Maestro Sir. Antonio Pappano who invited him to play under his direction in the festival that is celebrated every year in the native village of his family, playing the Beethoven Emperor Concerto and Liszt's First Piano Concerto. Moreover, Luigi has been invited to play as soloist with several orchstras: Southeast Kansas Symphony at Pittsburg State University, Bacau Philharmonic Orchestra, Orchestra Filarmonica della Calabria, Orchestra Sinfonica Città di Roma, Çukurova State Symphony Orchestra, Orquesta Juvenil Universitaria Eduardo Mata, Orquesta del Lyceum Mozartiano de La Habana, Orquesta Sinfonica de Matanzas, Orquesta Filarmónica Municipal de Guayaquil and Orquestra Sinfonica de Ribeirão Preto.
​
He won over forty Piano International Competition.
In 2017, he got a Bachelor's Degree at the Nicola Sala Conservatory in Italy and continued his studies in Spain, obtaining a Master's Degree in Musical Interpretation at Alfonso X el Sabio University in Madrid.
On July 19, 2021, Luigi made his debut at the Musikverein in Vienna performing Tchaikovsky Concerto no. 1 for piano and orchestra.
In October 2021 Luigi was invited to the USA by Pittsburg State University to give a Masterclass and a solo concert with the Southeast Kansas Symphony. In the spring of 2022, Luigi made a tour in Italy, Mexico, and USA where he was invited to teach a Masterclass at Florida Atlantic University.
In November 2022 Luigi started a world tour with Rachmaninov Piano Concerto No.2.