The Nis Symphony Orchestra Hall, 8pm
Trio Aura (N. Macedonia)
PROGRAME
Ch. E. Lefebvre – Balade
G. Donizetti – Trio
J. Koetsier – Trio
H. Beeftink – Trio "Dance of the Woods"
G. Schocker – Three Dances
Ivan Terziev, arranged by Vladimir Dimovski – Hey you, boy from Ohrid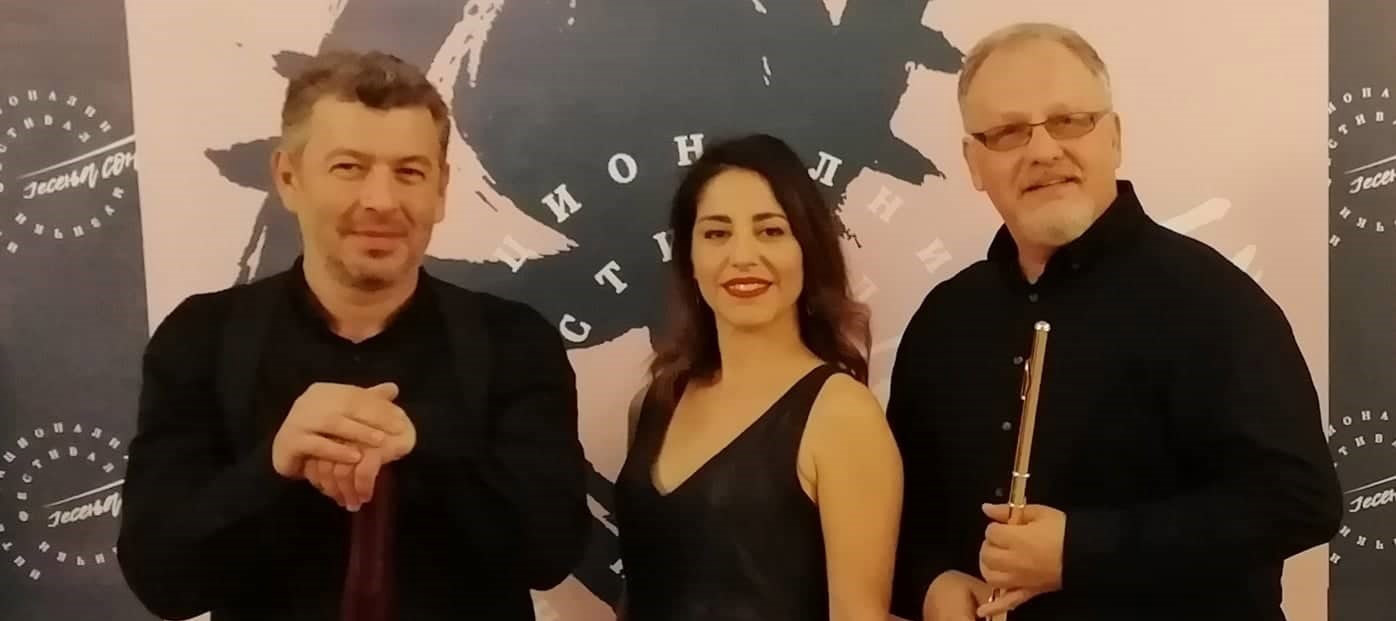 Marjan

MILOSEVSKI
BASSOON
Marjan Milosevski graduated, and in 2003, received his master's degree in bassoon at the Faculty of Music in Skopje, in the class of professor P. Trajkovski. During his studies, he performed twice with the Macedonian Philharmonic as the best student.
His professional beginnings are connected to the chamber orchestra for modern music Saint Sofia, with which he performed at the Ohrid Summer and Days of Macedonian Music. After the master school in Dubrovnik in 2002, he received an invitation to collaborate with the orchestra for new music "Sonemus".
With this orchestra, he performed numerous concerts in the Balkans and in many European centers. In 2004, he founded the music workshop "Ad libitum" with an emphasis on woodwind quartet and bassoon quartet.
He is active in several chamber ensembles: Opera Trio, Kon tempora, Macedonian Opera and Ballet Wind Quintet, Trio Aura, etc.
He is currently the first bassoonist of the Macedonian Opera and Ballet and an associate professor of bassoon at the Faculty of Music in Skopje. Milosevski is a bassoonist of the younger generation who successfully maintains both the works of the old masters as well as the works of the latest directions of classical music in his repertoire.
He won Georgi Božikov award for the best musical performer in 2012.
Ana

GACEVA
PIANO
Ana Gaceva works as a full-time piano professor at the Faculty of Music in Skopje. She graduated and received her master's degree in piano at the FMU in Skopje, as the best student of her generation with cum laude. In parallel, she graduated and received a master's degree in piano and chamber music at the world-renowned music academy Ecole Normale Superieure de Paris Alfred Cortot. She defended her doctoral dissertation in piano interpretation under the mentorship of Prof. Emeritus S. Young from Trinity College London. Gaceva has published the book "Pianistic Techniques in Concerts by Performers of the World Music Scene". The path of improvement leads her to the world-famous Mozarteum Academy, which she completed in the class of prof. Del Viña.
Gaceva stands out as one of the most active and successful soloists in her country. She has collaborated with top pianists and pedagogues such as Monique Deschaussé, Ramsey Jassa, Chantal Debuchy, Jean-Claude Pentier, Milena Molova, Aleksandar Starkman, Zheni Zaharieva, etc. She has won several national and international awards and has performed numerous concerts. Invited by prestigious concert halls and institutions, Gaceva gave concerts in New York, Paris, Rome, Vienna, Salzburg, Bern, Amsterdam, Minsk, Kiev, Dresden, Bucharest, Ljubljana, Zagreb, Sofia, Plovdiv, Belgrade, Portorož, Makarska, Diemen, Omiš, Baru, Cetinje, Logatec…
Gaceva is a frequent soloist of the Macedonian Philharmonic, the Youth International Orchestra, the Russian Academic Orchestra, the Saint Sophia Contemporary Music Orchestra, the Bitola Chamber Orchestra, at the festivals Ohrid Summer, Minsk Spring, Les concerts de Midi&Demi, Kamermuziek "DE HOOP", Kiev Music Festival, Meridian Festival Bucharest, Museum De Buiten Plaats, Zagreb Summer Festival, Piran Music Evenings, Bar Chronicle, Espresivo, NIMUS, LEDAMUS, Concerti del Tempietto, Days of Macedonian Music, Stip Summer, Makarska summer festival, Festival in Omiš, Ljubljana Composers' Forum, Hvar summer performances…
She won Georgi Božikov award for the best musical performer in 2012.
Straso

TEMKOV
FLUTE
Straso Temkov is one of the most successful Macedonian artists of his generation. He graduated from the FMU in Skopje, and received his master's degree from the Music Academy "Pancho Vladigerov" in Sofia, Bulgaria.
During his studies, he collaborated with eminent European and world artists and pedagogues, which resulted in numerous awards at national and federal competitions of young artists of the former SFRY. Since 1991 he has been engaged as a solo flautist of the Macedonian Philharmonic.
His talent and desire for artistic realization brought him to concert podiums as a soloist with a large number of orchestras: Macedonian Philharmonic, French-American Chamber Orchestra, Macedonian Philharmonic Chamber Orchestra, Amorozo Chamber Orchestra. He performs as a soloist and as a member of the Macedonian wind quintet and many other chamber ensembles. He has performed at numerous festivals in the country and abroad: Summer of Ohrid, Autumn Music Festival, Summer of Skopje, Days of Macedonian Music, Heraklion Evenings, Art Apollonia – Sofia (Bulgaria), NIMUS and LEDAMUS (Serbia), Espressivo – Cetinje, Bar Chronicle – Bar and International Days of Chamber Music – Nikšić (Montenegro), then Croatia, Italy, France, England, USA.
He is one of the few Macedonian artists who performed at the prestigious Carnegie Hall in New York. Straso Temkov's repertoire includes works from baroque to contemporary music. His desire to promote contemporary domestic and foreign creativity for the flute is distinct. He has released two CDs with pianist Marija Vrškova. Temkov is the founder of the flute quartet Aulos.
He regularly participates as a jury member in domestic and international competitions. He is an artist with a striking style and expression.